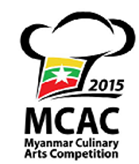 The 2nd annual Myanmar Arts Competition has come to a close, we thank all competitors, international judges, national judges, advisors, the team from BES – Allworld for outstanding work, dedication and determination to make the MCAC 2015 a complete success for the most positive development of all Myanmar in the Hospitality Industry.

We convey our congratulations to all participants from various countries and regions who have performed beyond expectation accumulating:

more than 50 Bronze Medal, - more than 30 Silver Medals, - 8 Gold Medals, - and countless certificates & Best Chefs Trophies
To see the overall winner in the various categories, please go to : http://www.myanmarchefs.com/mcac2015/allresults.html
Over 51 Bronze, 32 Silver, 8 Gold Medals, Diplomas and many top awards – by 242 participants
- in 12 culinary classes and arts --- all judged by a top international culinary Jury lead by WACS approved international Chief
Judge Tony Khoo, with Otto Weibel, Eric Wong, Oliver E Soe Thet, Andreas Vogt, Jamnong, Lee, Shanli Ong, Thomas, Markus , Hermann Feigl, Alan Palmer,and many
Myanmar Junior Judges....A real new area of culinary showcase and top quality see by near all participants .and young Myanmar Chefs Generation..
The Blind Chefs of Myanmar Blind School Yangon did it again and even upgraded the medal Color from last year .
Judges as all other chefs as well in Chicken Main Course Myanmar Flavor
This year they won 2 Gold and 1 Silver medals at Myanmar Culinary Art s Competition 2015 at MEP 3. to 5.6.2015.
Thanks to all the top sponsors as NTS, Rinnai, Premium Food Service, City Mart, Fonterra, Nestle, Maggi, Anchor, Dagon Beverages, Workswear,
, Snorre Food, Grandtwin Brothers, Mya Organic Vegetables, MLA, Mulwarra, Shwe Yin Mar, Ayethayar, Hotel Parami, Belmond Governors Residence, Sule Shangri – La,
Next Dates: FHMM & MCAC 2016 – 1. to 3.6.2016